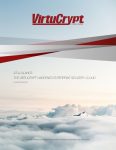 Whitepaper:
When deploying sophisticated business systems and software platforms, extensive collaboration occurs between the product's vendor and its users. When selecting a product vendor, it is vital for organizations to ensure the product will be operable should the vendor be unable to support it in the future. In order to update and maintain use of mission-critical applications, for example, the user must have access to the software's source code even if the vendor is no longer in business.
Planning for these contingencies is critical, and a successful agreement cannot be put into place without ensuring the confidentiality of the vendor's intellectual property. To do this, organizations often use escrow agreements, where a trusted third party maintains a copy of the intellectual property and provides it to the end user should contractually defined trigger events occur.
VirtuCrypt's Intellectual Property Escrow Service provides this service by assisting organizations as a neutral third party, also known as the escrow agent. VirtuCrypt secures a copy of the intellectual property and relevant, proprietary information using FIPS 140-2 Level 3 validated cryptographic technology. Should a trigger event occur, VirtuCrypt delivers a copy of the intellectual property to the product's users, as defined in the escrow agreement.
  Request Download