VIP Dashboard
The VirtuCrypt Intelligence Portal (VIP) Dashboard provides customers with control and visibility of their cloud from one convenient location. The VIP Dashboard is a powerful, secure, and intuitive web portal for reviewing all the information related to your VirtuCrypt environment.
Compatible
Portable
Customizable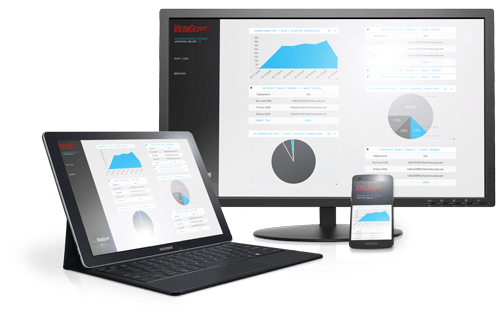 Using the VIP Dashboard

The VIP Dashboard can be customized to meet your organization's unique needs. Its robust, modular interface, equips you to configure services, name and organize service groups, set up alerts, and add or remove client devices. Through the portal, system administrators can establish user permissions, control who has access to the cloud and the degree to which they can view or use the services.
The VIP Dashboard is the primary tool for setting up and maintaining your cloud service. Need to view certificate trees and sign certificate requests with the Object Signing Service? Or perhaps you'd like to assign keys to client devices for the Remote Key Management Service? Either way, the VIP Dashboard leverages everything necessary to effectively manage your cloud cryptographic environment.
Whitelabeling
The VirtuCrypt Intelligence Dashboard (VIP) can be whitelabeled and branded according to your preferences. Whether creating brand affinity using your corporate logo and colors on the dashboard itself or using our web API for integrating services directly into your existing applications, the VIP Dashboard's whitelabeling capabilities give you the ability to deliver a seamless solution to your customers.
Schedule a Demo