P2PE
Encryption from End to End
Encrypting data doesn't have to be expensive, difficult to implement, or time consuming. Using VirtuCrypt Managed Point-to-Point Encryption service, your organization can quickly and easily add P2PE functionality to an existing infrastructure and let VirtuCrypt handle the compliance, data center allocation, and device management for you.
About P2PE
Point-to-Point Encryption is a way for organizations to ensure that data is encrypted across all end points, protecting information during transit and only decrypting it once it has reached a secure destination. Should a malicious entity intercept information during transit, that data would be encrypted and therefore unreadable.
VirtuCrypt is able to provide encryption of data from the point of interaction until decryption within the physical security of VirtuCrypt's FIPS 140-2 Level 3 Secure Cryptographic Devices. This P2PE functionality enables organizations to significantly reduce their PCI compliance scope and expense.
 How It Works
Managed P2PE services take advantage of a shared VirtuCrypt infrastructure, with customer-controlled encryption keys that ensure separation of environments. These keys can be managed through VirtuCrypt key agent services or by the customer via the Excrypt Touch. Organizations access their P2PE service through the VirtuCrypt Intelligence Portal (VIP), a web service that allows for specific tracking, management, and scaling.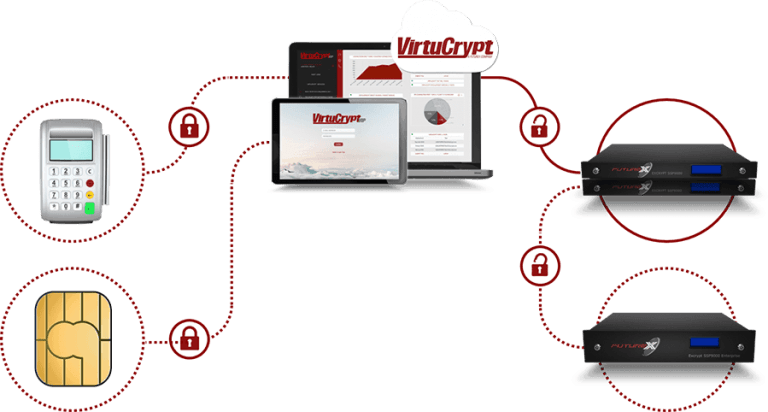 Other Features
Through VirtuCrypt, users can also implement Remote Key Management, Object Signing, Debit Processing, and more. Each of these VirtuCrypt Elements has individual benefits, but a combination of these offerings will elevate your organization's security and compliance.
Scalable TPS
P2PE comes in transaction packages that allow you to choose the number of transactions per second (TPS) that your organization will use on a monthly basis. Have a spike in traffic? Increasing the number of available transactions is as simple as contacting the VIP help desk.