Enterprise Key Management
Manage the Full Key and Certificate Lifecycle with Ease
VirtuCrypt combines innovative hardware with the convenience of the cloud for key management that is efficient, easy to use and standards-compliant. VirtuCrypt Enterprise Key Management Service is the ideal, secure solution for managing large volumes of keys, certificates, and other cryptographic objects.
Sophisticated Functionality
Some of the items that come with this service include:
Support for all major key types, algorithms, and protocols
Ability to organize keys and certificates via object grouping and custom attributes
A robust search engine, which allows millions of objects to be easily managed
Automatic expiration rules that can remove and replace keys on a user-defined schedule
Enterprise Key Management
Configuring your Enterprise Key Management services is a simple and secure process using the Excrypt Touch, a FIPS 140-2 Level 3-validated touchscreen tablet. A dedicated and compliant key generation and loading device, the Excrypt Touch has an extensive array of key management capabilities, including loading Master File Keys.
Features at a Glance
Full key lifecycle management
Remote key loading and configuration
Certificate Authority management
Automated and streamlined process
High integrity authentication of
keys, certificates, and log files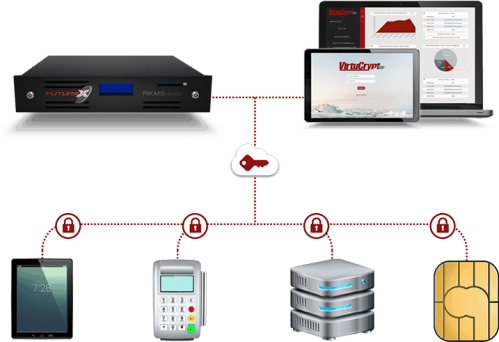 Additional Services
Enterprise Key Management Services can be combined with other offerings to create a comprehensive platform for all aspects of a core cryptographic infrastructure:
Key Agent Services
VirtuCrypt provides the option for our customers to take advantage of a key agent service, whereby the generation, handling, and storage of key components will be managed by certified CTGA-accredited experts. 
Remote Key Management Services
For organizations looking for remote key loading functionality, VirtuCrypt Elements Remote Key Management was designed to meet that need.