Hardware Security Modules
Industry-Leading Encryption
The top choice of Tier-1 organizations around the world, Futurex HSMs offer industry-leading transaction speeds, a robust programming API, and heightened physical security through FIPS 140-2 Level 3-validated Secure Cryptographic Devices (SCDs). Unlike many cloud services, VirtuCrypt uses strong cryptography to encrypt all sensitive data from the Point of Interaction until decryption within the tamper-proof boundaries of the devices.
Reliability and Compliance
The security and functionality of VirtuCrypt HSMs enable organizations to significantly reduce their compliance scope and expense. The HSMs:
Serve as a single source for encryption of all sorts of data, whether in storage or in transit
Offer a variety of specific encryption functionality such as P2PE, tokenization, and EMV
Support algorithms and features such as RSA, AES, EMV, 3DES, and PKCS #11
Physical Security
All Futurex HSMs have been rigorously tested to meet the strict requirements for FIPS 140-2 Level 3 validation. Key features include:
Tamper responsiveness: the devices automatically detect any intrusion attempt and instantaneously erase all sensitive data to avoid exposure
Compliant data centers: the devices are stored in a manner that enforces dual control and biometric, multi-factor identity verification mechanisms
Logical Security
Futurex HSMs have logical security features such as:
Permission-based access controls
Enforcement of dual control
Function blocking
Cloud access secured over a TLS connection, with the option to utilize VirtuCrypt's Secure USB Tokens for mutual authentication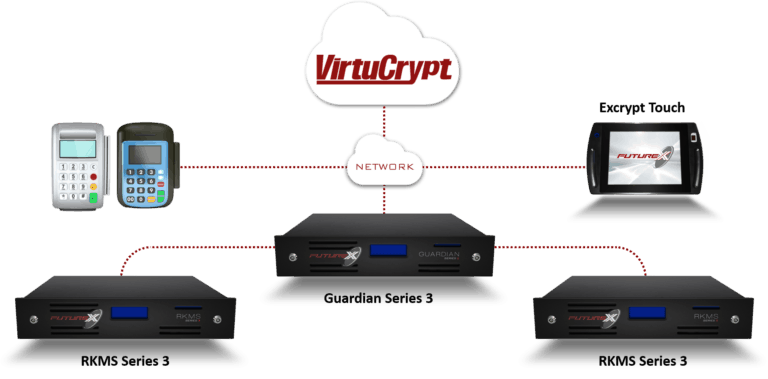 World-Class Transaction Speeds
VirtuCrypt's use of the industry's highest speed devices provides you with the TPS required to meet the needs of your customers.
Limitless Scalability
With options for both anticipated and unanticipated spikes in traffic, VirtuCrypt can meet your scalability requirements.
Uses
Industries using our HSMs
Financial
Healthcare
Mobile payment
Education
Government and defense
Retail
Device manufacturers
Common Applications
Transaction processing
EMV data preparation and transaction validation
Point-to-point encryption (P2PE)
Mobile payments
Tokenization
General Purpose encryption
Other Solutions
The Excrypt Touch
Perform secure procedures such as key loading and configuration remotely using the Excrypt Touch, a FIPS 140-2 Level 3 device.
Key Management
Combine VirtuCrypt Enterprise Key Management and HSM Services to create a comprehensive platform for data across all endpoints.
Disaster Recovery
Prepare for accidents or natural disasters using VirtuCrypt Enterprise Disaster Recovery, which creates a functional copy of your entire cryptographic environment.