General-purpose
Data protection in the cloud
Deploy general-purpose cloud HSMs through VirtuCrypt to encrypt databases, files, applications, and messages across your organization. VirtuCrypt cloud HSMs also allow you to manage and secure keys, forming the basis for digital signing operations. This makes it ideal for organizations within the technology, healthcare, automotive, government, IoT, and corporate sectors.
VirtuCrypt's near-universal support for standard and international APIs reduces cloud HSM integration effort, including native integration with major cloud providers like AWS, Azure, and Google Cloud Platform. VirtuCrypt cloud payment HSMs are powered by Futurex's FIPS 140-2 Level 3 and PCI PTS HSM v3 certified technology for maximum compliance and trust.
If you aren't currently using Futurex hardware, look into VirtuCrypt Key Management or Payments service suites.

VirtuCrypt Backup service replicates all of your in-house data, including encryption keys and certificate trees, within the hardened security of VirtuCrypt's servers.

VirtuCrypt allows companies to monitor their system health and security and sends alerts in the event of any critical issue such as an exhaustive PIN attack or power outage.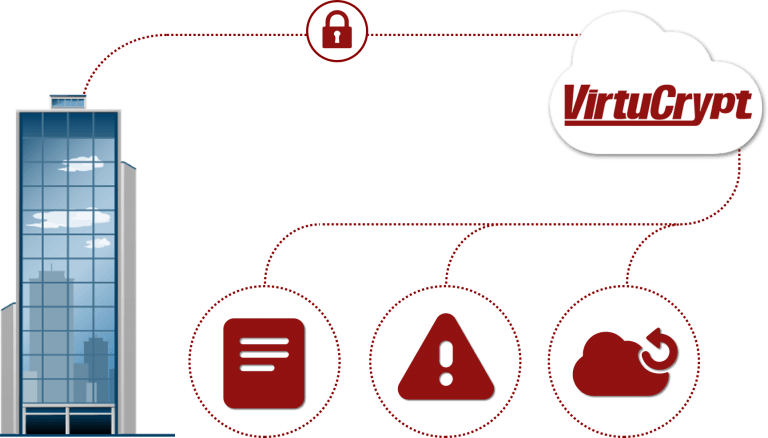 How It Works
A secure connection is set up between an organization's in-house Futurex devices and VirtuCrypt's centralized management devices. The in-house devices function as normal, with no interference from the VirtuCrypt services.
Benefits
Why should you consider VirtuCrypt as an enhancement to your existing infrastructure? The advantages speak for themselves:
Utilizes the same architecture as your Futurex hardware
Simplifies integration work
Significantly reduces costs associated with employee training
Lessens compatibility testing time and cost
Builds upon existing efficiency and capabilities