Secure Storage
Virtually Limitless Scalability
VirtuCrypt offers secure cloud storage for organizations seeking to protect and store sensitive data. A high-volume, hardware-based data storage and access solution, the VirtuCrypt Secure Storage service enables redundancy and extended storage capacity for keys, certificates, personally identifiable information (PII), serial numbers, access logs, and other objects with virtually limitless scalability, proper security, and controlled accessibility.
Advanced Functionality
Combine VirtuCrypt Enterprise Secure Storage with other VirtuCrypt offerings, such as the Enterprise Key Management or HSM Services, to gain additional storage capacity for the data objects used among all services.
VirtuCrypt's services integrate seamlessly, in a way that promotes efficiency and ease of use for the end user.
As a standalone service, VirtuCrypt's storage functionality can be used as a network-attached storage server, a fully redundant database server, a tokenization vault, and more.
Security
VirtuCrypt stores all data using hardened, FIPS 140-2 Level 3-validated Secure Cryptographic Devices (SCDs). This extra level of security ensures your data will never be able to be compromised or accessed without your permission.
Scalability
As your company grows, we're here to accommodate your storage needs. With VirtuCrypt's Secure Storage service, data storage limits are a thing of the past. The virtually limitless scalability of VirtuCrypt makes augmenting your cloud storage capacity quick and easy.
Accessibility
Data storage can't be a silo. Your organization needs to be able to access data at any moment, and VirtuCrypt's services make that a reality, maintaining full security while ensuring your data is there when you need it.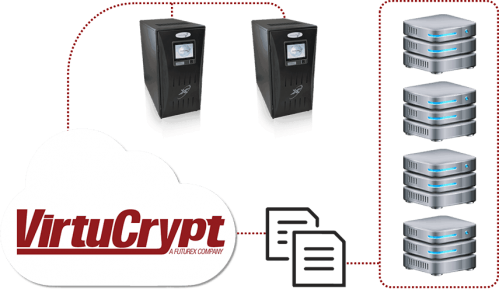 Storage Backups
You've got your storage, but what about backups? VirtuCrypt offers a multitude of services that will help your organization cover all its bases:
Load balancing
Geographically separated disaster recovery
Active services backup
High availability solutions
Automated configuration backup