IP Escrow
Robust Risk Mitigation
With VirtuCrypt's Intellectual Property (IP) Escrow Service, VirtuCrypt acts as an escrow agent, storing and encrypting verified copies of IP (such as an application's source code) and providing them to third parties on the occurrence of contractually specified event. Placing intellectual property into an escrow provides industry-leading security and risk management for both the licensor and any licensees involved.
Who's Involved?
IP Escrow involves three essential parties: the licensee (also known as the beneficiary), the licensor (also known as the developer or supplier), and VirtuCrypt. VirtuCrypt ensures the security of IP throughout the three main stages: deposit, storage, and delivery.
 How It Works
VirtuCrypt offers two or three party contracts to secure intellectual property against unfavorable future circumstances, such as bankruptcy or the removal of support for a product. In a three party agreement:
All parties settle on terms and conditions of the escrow
The licensor deposits the IP
VirtuCrypt confirms the files with verification of hash values
Licensors can choose from various usability testing options to ensure that the uploaded files are fully functional
When a contractually defined event occurs, VirtuCrypt delivers a copy of the IP to the licensee
So Long, Legal Disputes
Chief among the capabilities of using an escrow is the ability to avoid legal disputes altogether. Whether you are the provider or beneficiary of mission-critical software, having the software supported by an escrow agreement ensures your company will not face support-related legal conflicts. Since the designated IP is provided to the licensee in a timely manner, business continues as usual, and neither party is required to seek legal assistance.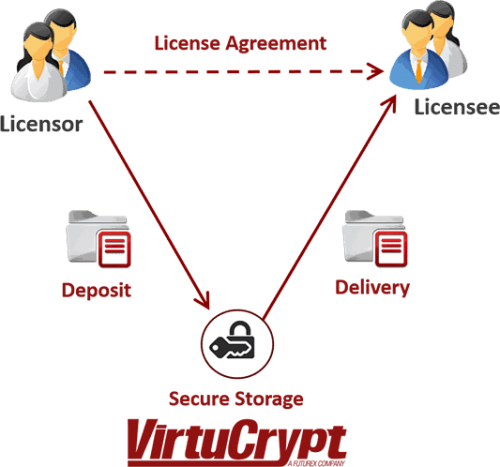 Shared
VirtuCrypt's IP Escrow Service is robust and intuitive, using VirtuCrypt's Intelligence Portal (VIP) Dashboard for additional support. All parties involved gain reliability from the optional usability testing, which ensures that the IP is functional and not missing any key elements. Organizations joining VirtuCrypt in an escrow agreement benefit from data storage facilities that are SSAE 16 (SOC 1, 2, and 3), PCI, TIA-942 Tier 4, and HIPAA-compliant.
Licensor
The licensor, or organization providing mission critical software, benefits by establishing the credibility that comes with following industry best practices. Organizations whose IP is customized for specific companies, or whose customers rely heavily on IP, can greatly mitigate risks of bankruptcy in the case a business discontinues support for a product.
Licensee
If your organization is largely reliant on mission-critical IP that is essential to your business or compliance, an escrow can be enormously beneficial. VirtuCrypt supplies the licensee with an archive of IP files thus guaranteeing that support for mission-critical IP is provided. This lessens the risk that your organization's daily operations will be derailed by loss of support by a solution or service provider.